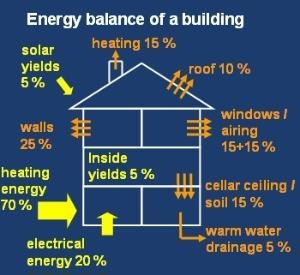 There is a world-wide agreement to significantly reduce CO2 emissions by means of energy saving measures, in order to confront the damaging results of climate change. In Europe, around 40 % of the total combined primary energy usage goes to provide heating and electricity in buildings. This makes abundantly clear the importance that must be attached to the energy efficiency of buildings.

Under the programme "Local Consultations to Save Energy" the German Federal Office of Economics and Export Control (BAFA) gives grants for consultations with home owners by qualified engineers. BAFA promotes projects of the newly founded Deutsche Energie Agentur GmbH (DEnA = German Energy Agency) by granting federal subsidies. DEnA's task is to obtain lasting improvements in saving energy and a more efficient use of energy in private households, companies and public administration as well as the utilization of regenerative energy resources.




If you prefer a neutral and an independent assessment of your building and a quality-assured execution of the energy saving measures, I can offer the following:

Energy Knowledge
A comprehensive knowledge on energy issues with regard to the heating technology and the thermal insulation of your building. Consideration of renewable energy and electric consumers.

Energy Consulting at your building
A detailed on-site consulting with several options for saving energy.

Status Report
A detailed energy efficiency status report for your building.

Enquiry for Realisation
Preparing a technical enquiry for the energy saving measures selected from the building owner.

Supervision of Work
Monitoring of the workmanship of the subcontractors selected.




The Trans-Mediterranean Renewable Energy Cooperation (TREC) is an initiative that campaigns for the transmission of clean power from deserts throughout Europe, the Middle East and North Africa. Since it was founded in 2003 by The Club of Rome, the Hamburg Climate Protection Foundation and the National Energy Research Center of Jordan, it has developed the DESERTEC Concept and researched it in cooperation with the German Aerospace Center (DLR). Now TREC is making this concept a reality in cooperation with people in politics, industry and the world of finance.